We have a team of 4 led by US who are going around Asia trying to build alliances against China and signing defense pacts with each other, conducting naval exercises and even chiding China for being undemocratic, calling China a predator and a violator of human rights & the list of insults goes on. If all that is true, why do these nations have China as their largest trading partner? While China trades with them and calls it exercising mutual goals & objectives, the Quad nations while going to China to forge trade ties and deals have no hesitation in building blocks to go to virtual war with China. Why spend so much on defence pacts, weapons etc when all that they need to do is to simply stop trading with China. They must match rhetoric with action. It looks rather silly blowing hot & cold at China and then going to China for trade or being dependent on China for trade! The Quad should not be jealous of China's rise.
China is one of the world's fastest growing countries producing 9.3% of global GDP. China is also the largest exporter of goods. In 1978 China's GDP equaled that of Zambia. It raised its GDP from $155 in 1978 to $7590 in 2014 and lifted 800million people out of poverty. China's population equals the total population of North & South America, Australia, New Zealand & Western Europe.
If China could do it, so can other countries and China will not stop them.
China also has the world's largest foreign exchange reserves of 3.21 trillion US Dollars.
China owns about $1.1 trillion in U.S. debt
Over 1million Chinese are working overseas. Over 1million Chinese students are studying overseas. Over 131million Chinese tourists travelled overseas in 2017 alone.
US-China
Over 41% of imports to US are by China with a 2.6% increase since 2019.
In short, US imports from China more than US exports to China.
Almost 80% of US imports from China are telephones for cellular networks or for other wireless networks
As for US exports to China – Aeroplanes and other aircraftaccount for 9%
The U.S. trade deficit with China in 2019 was $345.2 billion. The trade deficit exists because U.S. exports to China were only $106.4 billion while imports from China were $451.6 billion.
Americans of Chinese descent, including those with partial Chinese ancestry constitute 1.5% of the total U.S. population – 3.8million Chinese Americans.
Nearly 400,000 Chinese students were enrolled in U.S. colleges and universities in 2019 – more than one-third of the country's international students.
In 2018, there were almost three million visitors from China to the U.S,
India-China
China is India's second-largest trading partner after the US. And two, it accounts for nearly 12% of India's imports across sectors such as chemicals, automotive components, consumer electronics and pharmaceuticals. 70% of India's drug intermediary needs are fulfilled by China(Indian Pharmaceutical Alliance)
Chinese companies Alibaba and Tencent are pumping billions of dollars helping Indian startups such as Zomato, Paytm, Big Basket and Ola.
More than 90 Chinese investments have helped Indian startups, most of them made over the last five years.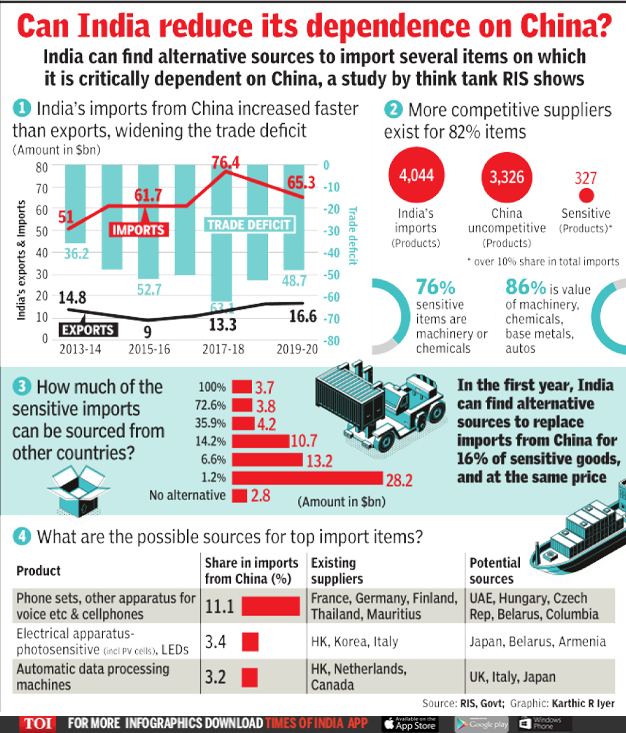 China's share in India's total export and import are 9% and 18% respectively in 2019-20.
327 items form 3/4th of imports from China
India imported goods worth USD 62.3 billion from China during April – February FY20 out of a total import of $442billion (Dept of Commerce)
More than 14 per cent of India's total imports come from China. India still imports 41 of 96 major items from China. Growth in imports in some cases has been over 200% and going up to 5,400%.
Chinese firms supply about 80 per cent of solar cells and modules to India.
The 4G network of Bharti Airtel and Vodafone Idea is largely built by Huawei and ZTE
India's imports of arms and ammunition parts and accessories from China were to the tune of Rs 3.24 lakh last year and this year till June, it has been Rs 52.3 lakh, an increase of over 1,500%.
China is also a major destination for India's exports.
India earns over $15 billion by exporting its goods to China. During April-February FY20, India exported goods worth $15.5 billion to China, which was 5.3 per cent of India's overall exports. Mineral fuel, mineral oil, and aquatic products are the main products that India exports to China.
Japan-China
Trade has increased from $1 billion to some $317 billion over the past 45 years and now represents more than 20% of Japan's total trade
Japan exports to China was US$134.68 Billion during 2019,
Japan imports from China was US$169.22 Billion during 2019
70% to 80% covid masks are produced in China
Australia-China
China exports to Australia was US$47.55 Billion during 2018
Australia's main imports from China are manufactured goods, which were worth more than AUD 21 billion in 2018
Australia imports from China was US$56.95 Billion during 2019
In 2018, annual two-way trade between China and Australia reached almost AUD 215 billion.
China is also the largest foreign buyer of Australian agriculture, forestry and fisheries products, with imports totalling around AUD 13.5 billion in 2017-18.
China is Australia's largest source of international students with the services export market worth AUD 11.7 billion in 2018.
China is Australia's second largest inbound tourist market (as measured by arrivals), and the largest when measured by tourism expenditure. More than 1.4 million Chinese visited Australia in the year ending September 2018 and were the largest source of tourism expenditures (AUD 10.9 billion) into the Australian economy.
Chinese investment in Asia and Oceania was $38.01 billion in 2017. From 2005 to 2017, Chinese firms invested $324 billion into Europe, which constitutes 31.03 percent of China's global outbound FDI. Over 43 percent ($238.2 billion) of these investments were concentrated in the UK, Switzerland, Russia, Italy, France, and Germany.
Europe and North America (excluding Mexico) has received $544.5 billion of China's total global FDI outflows from 2005 to 2017.
According to Harvard Business Review Chinese state and its subsidiaries have lent about $1.5 trillion in direct loans and trade credits to more than 150 countries around the globe turning China into the world's largest official creditor surpassing World Bank & IMF.
https://www.weforum.org/agenda/2018/03/this-is-what-the-us-imports-from-china/
https://www.thebalance.com/u-s-china-trade-deficit-causes-effects-and-solutions-3306277
https://asialinkbusiness.com.au/china/getting-started-in-china/chinas-imports-and-exports?doNothing=1
While all of the Quad nations are nicely trading with China, they demand other countries not only stop dealing with China but allow Quad greater stakes in their countries on the premise that they are nicer than China & they would protect their nations from China. While the Quad may want to drum war notes, none of these countries want to be at war with China. What the situation looks like, is a sheepish attempt to use China as an excuse to get a foothold into countries and build up their economies – China is just a convenient scapegoat!
Shenali D Waduge
Source: www.shenaliwaduge.com