How do vote-declining and fast-becoming irrelevant political parties and politicians return to limelight? Simple, they dig out a dead LTTE and create a tamasha and then try to force people to rally around them. So what's the latest propaganda stunt this time round. Digging up one Thileepan, who committed suicide or rather put on death fast by LTTE leader because he did not have long to live in view of a wound in the stomach. He was the perfect recipe to twist his death & turn him into a martyr. The story not told, is that Thileepan's fast was not due to any protest against Sri Lanka, but against India for not listening to LTTE's 5 demands. This was in 1987. It's now 2020. To have to dig out dead Thileepan goes to show bankrupt TNA & pro-LTTE politicians are. From the countable presence it is clear they have no followers, but their stunts are disturbing the peace and their demands for hartals and shop closures (from 27 Sept to 10thOct) are going to affect the purses of people already suffering from covid-19 financial difficulties. The people of the North and East must realize that these dramas come after handsome handouts are deposited to the organizers bank accounts. It is time the People question how much these TNA politicians and pro-LTTE supporters are being paid for their dramas.
Its 2020. How many shop owners in North or East of Sri Lanka are bothered today about Thileepan of LTTE fasting to death & want to close down their shops from 27thSeptember to 10thOctober. Is 2 weeks of closing their shops going to bring Thileepan back to life? Throughout these 14 days how much money will these shop owners lose with no business?
Will TNA & pro-LTTE elements organizing these hartals compensate the shop owners?
Are the shopowners aware that handsome handouts are given to those organizing these tamashas?
Who are these bankrupt attention seeking politicians?
ITAK head – Mavai Senathirajah
ITAK Sivajilingam
TNA Srikantha
TULF Sridaran
EPRLF Suresh Premachandran
TULF Gunaratnam Subhash
PLTE balachandan Kadjadeepan
North Walikaman PC Head Shanmugalingam Sujwan
ITAK Saranawabawan
TULF Wishwalingam
Wanni district MP Sriskantharajah
Vavuniya district MP Senadirajah
Former MP Sathyalingam
Just look at the sorry picture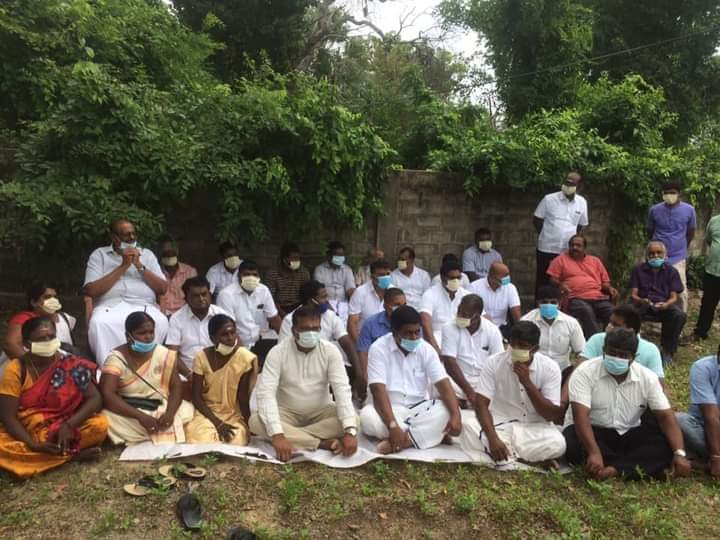 These people are game to undertake the most ridiculous stunts because they are rewarded. But what about the shop owners who are forced to go on hartal & lose out daily income? These innocent shop owners do not make any daily earnings and imagine the daily loss for 14 days. How selfish can politicians be.
It is time the Tamil people put their foot down and bring to an end these theatrics. Thileepan or any other LTTE can commit suicide but that is out of their choice. The people want to move on with their lives.
Every year some dead LTTEr cannot be plucked out from the grave and people asked to shut down their shops so that Tamil politicians can get some media attention.
Shenall D Waduge
Source: www.shenaliwaduge.com